VIDEO: A New Initiative Seeks to Repeal California's Death Penalty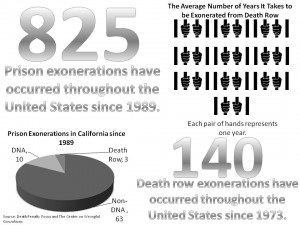 Franky Carrillo is adjusting to his new life as a student, volunteer, public speaker, and most importantly free man.
"I spent 20 years of my life in prison fighting for justice and fighting for the truth to finally surface," said Carrillo.
Carrillo was riding his bike one day in his Lynnwood, Calif. neighborhood when a police officer asked to take his picture.
He did not know what the picture was for, but not wanting to argue with the officer he obliged, went home, and did not think of the incident again until a year later.
In 1991 at 16 years of age, Carrillo was arrested for a drive-by shooting that resulted in one man's death.
He swore he was innocent, but was found guilty and sentenced to life in prison after six boys identified him as the shooter from a photo line-up.
"Twenty years later the truth of my innocence surfaced. The witnesses who testified against me came back and recanted," said Carrillo.
"They came back and told the truth, that they didn't see me and that the cops told them what picture to select. And the actual murderer's name surfaced. So the whole case unraveled. I've been home now for a year."
Now 37, Carrillo supports the SAFE California initiative to repeal the death penalty.
"I'm a living example that the judicial system is broken. If it happened to me it can happen to someone else, especially someone on death row when the matters are that much higher and the severity is that much greater," said Carrillo.
Safe California stands for savings, accountability, and full enforcement and those behind the initiative believe that these issues exemplify why California's death penalty system is broken and unable to be fixed.
"The only way to fix the death penalty is to replace it with life without the possibility of parole," said SAFE California Field Organizer Tommy Watts.
If passed, the initiative will turn all of California's 725 death row sentences into sentences of life without the possibility of parole, and this will become the highest form of punishment in the state.
In 1972 the United States Supreme Court ruled the death penalty unconstitutional throughout the country.
The court later reversed its decision, and California reinstated the death penalty in 1978.
Since its reinstatement California taxpayers have spent $4 billion on capital punishment, which comes out to nearly $308 million dollars for each of the 13 inmates who have been executed in the last 34 years, according to a three year study by U.S. 9th Circuit Judge Arthur L. Alarcon and Loyola Law School professor Paula M. Mitchell.
Factors contributing to these high costs include lengthy trails and attorneys' fees.
"We have had more inmates on death row die of natural causes and/ or suicide than we have actually executed," said University of Southern California Law Professor Michael Brennan.
No death row inmate has been executed in the state since 2006.
"I have handled some death penalty cases on appeal. They take anywhere from 20-25 years to get through the state and federal appeals process," said Brennan.
The study also found that on average capital punishment costs $100,000 more per inmate per year than life without the possibility of parole.
"The savings that we're coming with is once we replace the death penalty with life without the possibility of parole all the money that's being wasted on a dysfunctional system will go into reinvesting in our community," said Watts.
"We can take that money, especially at the current time in California's budget where we're laying off teachers and laying off police officers, and we can take that money and invest it into our state and into our communities."
Over the next three years, the initiative also plans to set aside $30 million per year to go toward solving California's 46 percent of open murder and 52 percent of open rapes cases, according to California Crime Victims and SAFE California.
In total, SAFE California believes repealing the death penalty and replacing it with life without the possibly of parole will save the state $1 billion over the next five years.
Another difference between those with sentences of life without the possibility of parole versus those on death row is that inmates on death row are not required to pay restitution to victims or victim's families.
"We want to make sure that the victims get justice. One of the ways that we're doing that is when they go into life without the possibility of parole they're going to be required to work in high security prisons, and that's going to go into a victim's recompense fund," said Watts.
"It will help with burial costs; help with grief counseling, things that get left out when you talk about the victim's families."
Death penalty proponents agree that the system in California is flawed, but do not believe repealing capital punishment is the answer.
"Through most of my life I've been in favor of it, for various reasons. My thoughts on it are weakening somewhat in the last few years. Not on the theory of the death penalty, but on the administration of it because of the cost and things like that. But I'm still overall in favor of it," said Los Angeles National Rifle Association member Fred Kong.
"I think that the death penalty is a necessary part of our justice system. But our current implementation of it is just way too expensive. Reforms to the whole death penalty process is the best way to go about it," said death penalty supporter Andrew Miller.
"I don't think repealing it is really the solution because the point of the death penalty is both as a punishment and as a deterrent, and if people realize they can get away with something without facing the death penalty they're less scared."
Other proponents believe repealing the death penalty is just part of a larger agenda.
"I think this is just a step to these people," said National Rifle Association member E.J. Rozek.
"Their next step is to eliminate life without the possibility of parole. They won't stop. That's the danger of it."
SAFE California has made no announcements about plans to abolish life without the possibility of parole, but supporters of the initiative do have a counter argument against those who simply want to reform the death penalty system.
"Every expert has said it's going to cost more money and you're going to give someone less appeals, which means now you have an even higher rate of executing someone that is innocent," said Watts.
Three men have been exonerated from death row in California after being found innocent of the crimes they were charged with committing.
"I don't think the death penalty system is fixable. I think that just due to the nature of the criminal justice system, the system makes mistakes. Innocent people get convicted," said Brennan.
"The system, throughout the United States, is certainly fallible. And I think that is reason enough to abolish it."
In order to fix the death penalty system, without decreasing the quality of justice, the state would be required to spend an additional $95 million per year, according to a 2008 study by the California Commission on the Fair Administration of Justice.
The Safe California initiative, which qualified for the ballot on April 23rd, will give voters the opportunity to decide whether California will be the 18th state to repeal the death penalty in November.
"Batman" Star Receives a Long Awaited Honor L.A's Top Instagrammer