About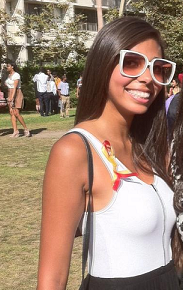 I am originally from Cleveland, Ohio, but when asked about my hometown I like to jokingly remark that I hail from Everywhere, U.S.A. I have lived in seven different states throughout the country. This has allowed me to meet many amazing people and have some phenomenal experiences from visiting Cleveland's Rock n' Roll Hall of Fame, learning the proper way to eat crawfish in New Orleans, realizing that Gino's cheese steaks are the best in Philadelphia, constantly shopping at Atlanta's famed Lenox Square Mall, attending my first rodeo in Houston, and riding to the top of the Space Needle in Seattle. I am often asked what it was like to move around so often. The truth is I would not trade in all the experiences and all the things I learned in these vastly different places for the world. All the moving has helped shape me into the independent, friendly, hard-working person I am today and brought me to my seventh state, California, which I love dearly.
I began my undergraduate studies at the University of West Georgia in Carrollton, Georgia. I was involved in a program there entitled the Advanced Academy of Georgia. This program allows students from all over the country to enroll in college after completing sophomore year of high school. Although there are many programs similar to this one at various universities, this one is unique in the fact that it allows students to live on campus in their own special set of dormitories. Therefore, at the age of sixteen my parents and I loaded up our car with my dearest possessions and made the trek from Ambler, Pennsylvania to Carrollton, Georgia for me to start my college career. After completing two years in the Advanced Academy students are given the choice to either stay and complete their studies at the University of West Georgia or to transfer to another school. Originally, I planned on transferring to the University of Nevada, Las Vegas, but a trip to California at age eighteen changed my mind. I decided Los Angeles was going to be the place for me. During my transition into being a Californian I took online classes from UNLV, before becoming a student at California State University, Los Angeles from which I received my bachelor's degree in television, media, and film.
While, working on my Bachelor's degree I've been able to partake in three internship opportunities. The first of these was at Bryan Farrish Radio Promotion where my responsibilities included reviewing albums, contacting potential leads, organizing files and folders, and responding to emails. Secondly was at the University Times, where I learned to hone my editorial skills. My responsibilities there included finding leads, doing research, interviewing subjects, and writing and editing articles. Finally I interned At Sixx Sense with Nikki Sixx, My responsibilities there included logging shows, researching show topics, writing articles for the website, uploading pictures to the website, working with html, sorting and responding to fan emails, researching bands, working with NexGen, helping with quality control of the show, and listening to and being a part of the show taping.
In my studies at California State University, Los Angeles I had a rare opportunity, usually only reserved for graduate students, to be a teaching assistant in the TVF 475 course Television News Magazine Production. In this course, I not only helped teach students, but I anchored California State University's official news broadcast. Other responsibilities there included helping take attendance, helping run the class, making sure all materials were ready for class, doing preparation for CSULA's broadcast news program, attending tapings of the show, running VTR, editing using Final Cut Pro, and helping students with any questions that arose.
I am currently enrolled in the graduate journalism program at the University of Southern California where I am working toward my master's degree. This programs have helped me become proficient in researching, story pitching, writing copy, shooting video, logging tape, editing with Final Cut Pro and Avid, basic HTML, basic CSS, Twitter, Facebook, WordPress, and various Microsoft and Mac programs.
During my time at the University of Southern California, I have worked as a reporter at their nightly broadcast news program entitled "ATVN". For this reporting position, I learned how to do day-of-air packages single handedly. I had to set up interviews, shoot, write, track, and edit all on my own. I have also worked at the university's website, "Neon Tommy", as a staff writer. I had a weekly column that would recap and review "Jersey Shore" episodes. I currently intern at L.A.'s number one hip hop radio station, Power 106. There I help Mando Fresko with his on air show. I also write for his blog daily. Examples of my work can be found on www.mandofresko.com.
I currently live near Hollywood with a roommate I found on Craigslist, who actually turned out to not be a "creeper". In my spare time I enjoy spending three hours solving rubik's cubes, going to concerts and shows, shopping, and practicing reciting the fifty states in alphabetical order in under twenty seconds.